As your parents age, it can become especially important to cherish the time that you have with them and make the most of the moments you share together. While it is normal to worry about their health and mobility when it comes to independent living, there are plenty of fun activities that you can do with senior parents to keep them active, engaged, and enjoying life.
Spending time with senior parents may be even more beneficial than you think. Many seniors experience social isolation, and this can have serious consequences on their health, including increasing the risk of dementia, heart disease, and stroke.
As the child of an older parent receiving services for assisted living or memory care, you can also take a role in keeping your parent socially active and promoting habits that support mental health and their overall health with fun indoor activities and outdoor adventures.
Fun Things to Do with Elderly Parents
Spending time with a senior parent is a great way to make memories that last a lifetime. It's also a great way to ensure that both you and your parent have a meaningful social outlet. Spending time with senior relatives does not always have to mean sitting and chatting.
Here are some fun things you can do next time you spend time with your senior parents:
Indoor Activities
Staying indoors might be preferable if the weather outside is less than desirable. These activities are also good options for parents with mobility issues, and many can be done if your parent is staying in a senior living community.
Fun indoor activities include:
Playing a game: Board games and puzzles are a great way to spend time together while keeping the mind sharp.
Crafting: Get your creative juices flowing by working on an arts and crafts project, such as painting or making a scrapbook. One study found that learning a new skill like quilting can improve memory.
Baking: Cooking or baking together is another fun and rewarding activity, and you can enjoy the fruits of your labor afterward.
Reading: Start a mini-book club with your parent. Pick a book that interests both of you and read a chapter or two each week, then discuss it.
Watching a movie: if you're in the mood for something more relaxing, you can always have a movie or TV marathon while you rest together on the couch.
Outdoor Activities
Getting outside and enjoying some fresh air and sunshine is great for both the body and mind. Getting enough physical activity is a key part of healthy aging. The recommended activity levels for seniors are at least 150 minutes of moderate exercise or 75 minutes of vigorous exercise every week. Spending some quality time outdoors with your elderly parent can help fulfill both of your weekly exercise needs.
Fun outdoor activities include:
Walking: Going for a walk or a light hike is an excellent way to get in some exercise while enjoying nature.
Gardening: Gardening is another enjoyable activity that can provide a sense of accomplishment.
Going for a picnic: Packing a picnic full of senior-healthy foods and taking it to a nearby park or botanical garden is a great way to mix things up during a meal.
Checking out a museum: Taking your parents to a local museum or art gallery is a great way to stimulate their minds while taking in a bit of culture.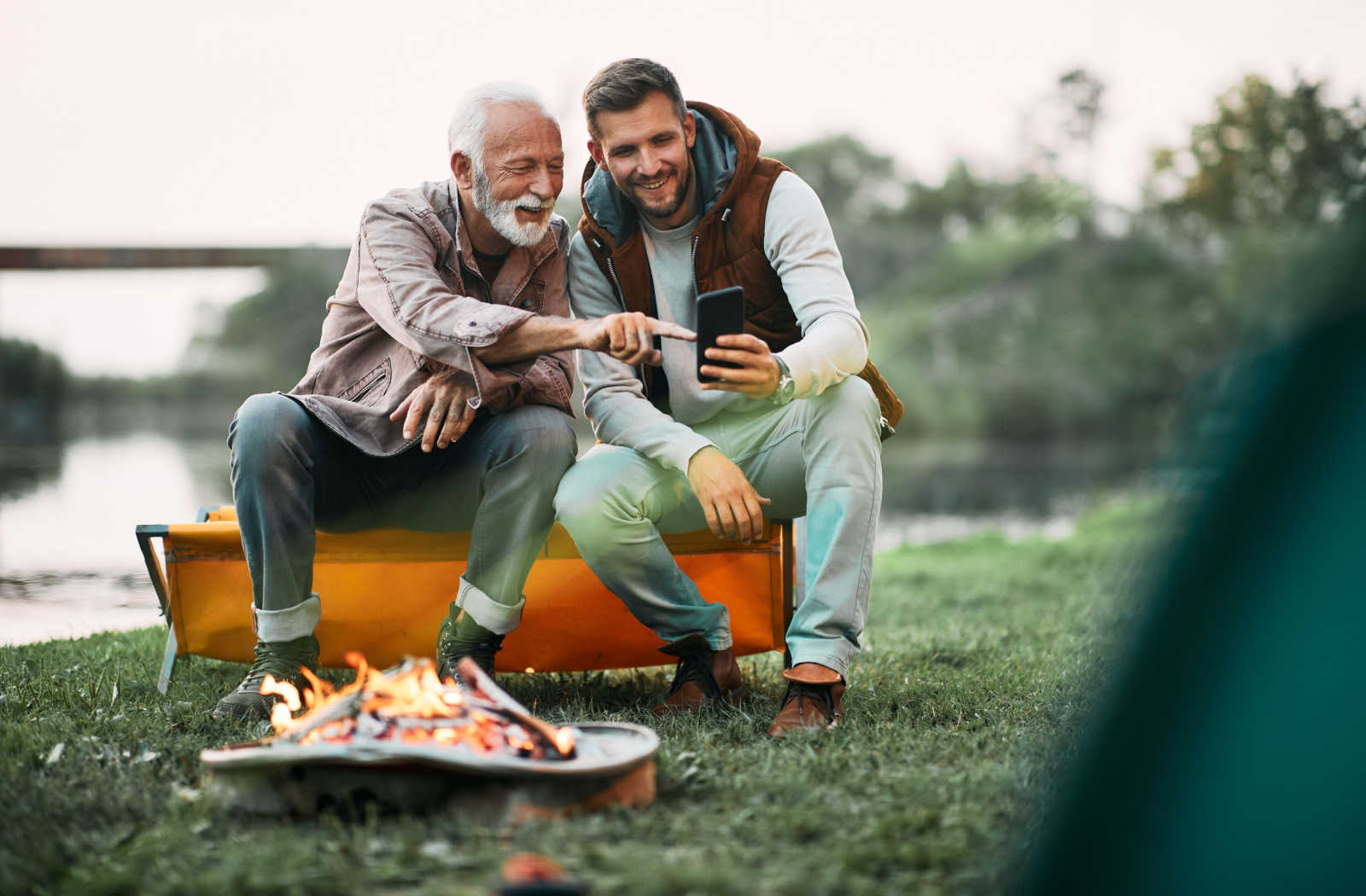 Social Activities
Socializing with friends and family is a great way to keep your elderly parents active and engaged in the community. Attending social events with your parent may also give them an opportunity to make new friends in the community.
Fun social activities include:
Trying a new restaurant: Take your parents out to eat at a favorite restaurant, or mix things up and try out a new cuisine.
Attending a concert: Attending events such as concerts, fairs, and local theater productions can be a fun way to get your parents engaged with the community.
Volunteering together: Volunteering is another great way to meet new people while getting involved in a cause that you both care about. Consider volunteering together at the local soup kitchen or animal shelter.
Travel Activities
Traveling together is a great way to bond with your elderly parents and create lasting memories. While this might not be possible for parents with complex healthcare needs or mobility challenges, even a short day trip can be a fun adventure.
Fun travel activities include:
Visiting a nearby town: Get a change of scenery by visiting a nearby town or city. Walk the main street and try a new restaurant or coffee shop.
Taking a road trip: Plan a road trip along a scenic route and stop along the way to enjoy the sights. Visit a nearby tourist attraction for a fun photo opportunity.
Tips for Planning Activities with Elderly Parents
When planning activities with an elderly parent, it is important to keep their specific physical limitations and health concerns in mind. You may need to plan for breaks and rest periods during your activity. Consider their interests and preferences when choosing an activity, and be sure to involve them in the planning process. Most importantly, make sure that your parent feels comfortable and included in all activities.
Why Fun Matters
Whether you're staying indoors, exploring the great outdoors, socializing with friends, or traveling to a new destination, there are plenty of fun activities that you can do with an older parent. Spending quality time with the seniors in your life is an important part of keeping them socially engaged. As we discussed earlier, maintaining social connections is essential to staying mentally, emotionally, and physically healthy.
If your parents are struggling with social isolation, they may benefit from living in a senior living community. Senior living communities can provide older adults with a close-knit community of other seniors at a similar stage of life, as well as regularly scheduled events and activities. At Bentley Commons at Paragon Village, we offer different options and activities to accommodate the specific lifestyles and needs of seniors. Contact us today to learn more about our amenities and services.